3 Pairs For $5.99-Up to 70% OFF-Combine 2 Coupons
Merino Wool Socks Casual Warm Socks for Winter Cozy Boot Socks for Men & Women
$5.99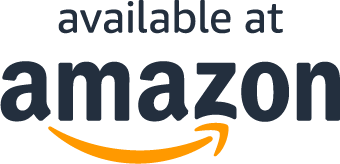 | | | | |
| --- | --- | --- | --- |
| 40 | Coupons used | 10 | Coupons left |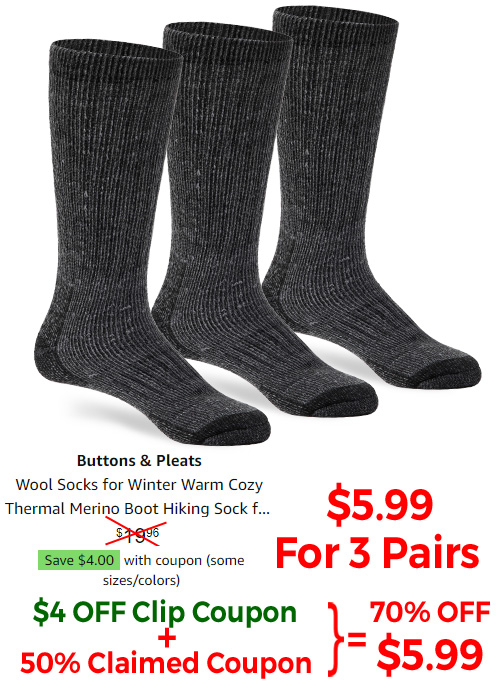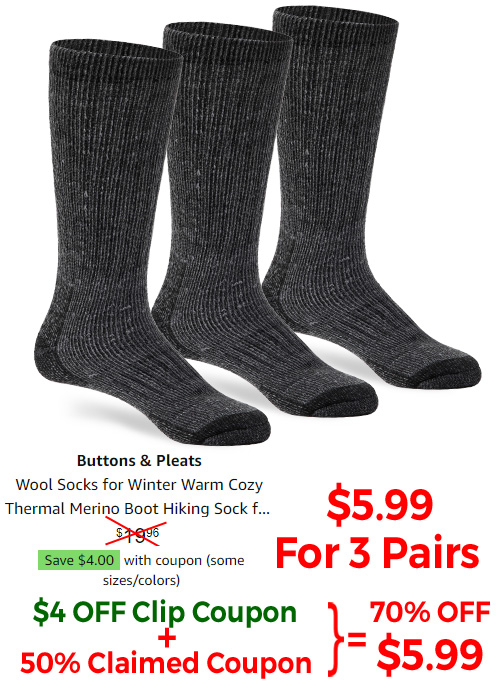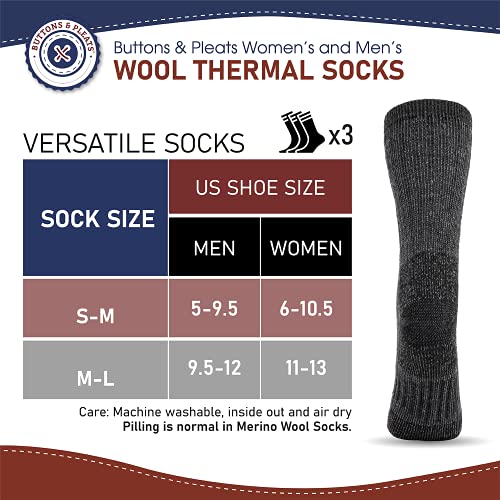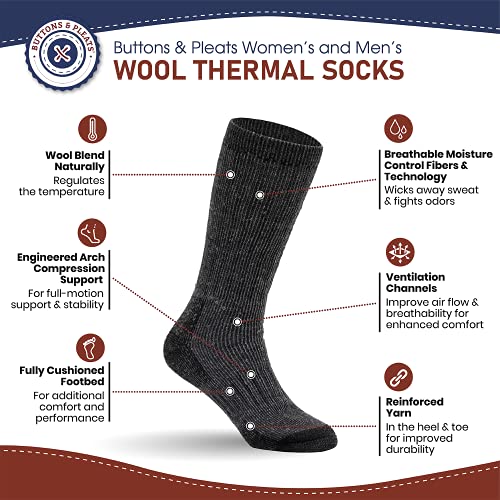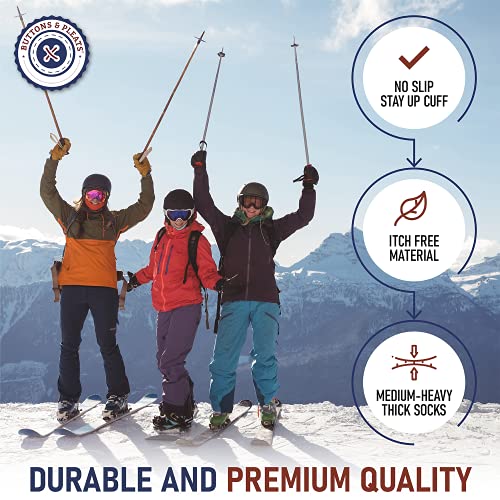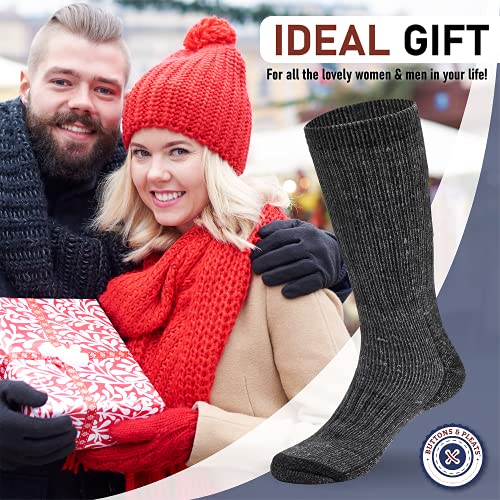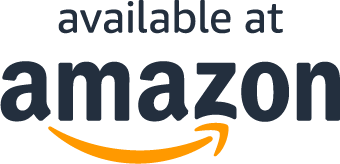 | | | | |
| --- | --- | --- | --- |
| 45 | Coupons used | 5 | Coupons left |
Read More
About the product
80% Merino Wool, 15% Polyester, 4% Nylon, 1% Spandex
COMFY AND WARM SOCKS – Keep your feet warm and shield them from the winter chill with our Button & Pleats merino wool hiking socks that are made from 80% merino wool, 15% polyester, 4% nylon, and 1% spandex. Featuring an extremely soft and fine wool blend, these socks naturally regulate the temperature to protect your feet from the biting cold and keep them feeling toasty.
ADVANCED DURABLE DESIGN – With reinforced yarn in the heel and toe for increased durability and a fully cushioned footbed for additional comfort plus performance, these wool socks for men have specially engineered arch compression reinforcement for full-motion support, stability, and greater balance to prevent any slipping or sliding while you are out and about!
BREATHABLE AND HYPOALLERGENIC WINTER SOCKS – Made from premium quality natural wool with in-built ventilation channels for free airflow, our moisture-wicking thermal socks are incredibly breathable to keep your feet dry and odor-free at all times. The hypoallergenic material of these cozy socks is very gentle on sensitive skin, won't cause any irritation or itching, and proves safe to wear.
VERSATILE WOOL SOCKS – Our wool socks for mens & womens are available in two different sizes to fit a wide range of foot types (small-medium fits shoe sizes: men 5-9.5/women 6-10.5 and medium-large fits shoe size: men 9.5-12/women 11-13). These standard grey color boot socks are suitable for both men and women and can be worn both for outdoor as well as indoor activities!
IDEAL GIFT – These wool socks ( women and men) come in a value pack that makes it a thoughtful gift for all the lovely women and men in your life for all festive and non-festive occasions like Birthdays, Anniversaries, Thanksgiving, Christmas, Hanukkah, New Year's, and more. We are sure you will refuse to pull out the socks once you experience the plush coziness on your feet!
What Are You Waiting For?
What Our Customers Are Saying
Great price, great socks, picking up 2 orders this time to get me through the winter.
From Minnesota, these are the socks that I wear all winter. Since I live in a log cabin with only a crawlspace basement, our floors get cold. I wear these (inside slippers) all winter and they are great.NOTE ON DURABILITY: When I walk around WITHOUT my slippers on, just these socks, they wear out FAST. As in a pair a week fast, almost as fast as cotton does (we have 125 year old floors that are kind of rough). Wearing them inside footwear, such as slippers or boots (as they are designed to be used), they work great. Very durable. I will admit I have had wool socks that lasted a bit longer, but at the expense of massive itching.As another note: wool socks (these included) are SLIPPERY on carpeted steps. Just watch out if you are not familiar with wool.Anyway, great price, great socks, picking up 2 orders this time to get me through the winter.
These socks aren't like the cheap cotton socks you get at the big box stores.
These socks aren't like the cheap cotton socks you get at the big box stores. If you take care of them, in other words wear house slippers and don't wash them on hot with softener then they truly will be the best piece of clothing you will ever own. I wear them on hot and cold days, with boots and with sneakers. I suffer from really sweaty feet, they will start sweating if I get excited playing video games. Hell, they're sweaty right now! But these anti-bacterial socks are so dope I can wear them 2 days in a row without a problem (unimaginable without merino wool). Now about Alvada Socks in particular. I don't know why some people have problems, I assume they walk with them on around the house that's probably 90% carpet which will screw up any fabric. I own 8 pairs(gave a pair to my brother) of these and are the only socks I wear.
The best sock you'll ever own! Especially if you have hot feet!
I have the amazing naturally ability to soak through socks and shoes in 30 minutes. Don't be jealous. I have been looking for socks to help with this issue and have tried just about everything, wool, cotton, Under Armor, Copper, Synthetic, dress socks under will socks. I have tried all types of foot wear also, tennis shoes, running shoes, hiking shoes and boots. No matter what I tried nothing changed. Then I bought a pair of leather uninsulated cowboy boots, and 24 pairs of Alvada Socks. I have never had such comfort in all of my life. Even after 16 hours with this combination, my feet were dry. I thought they would be hot due to the thickness of these socks but was wrong. The only criticism I have is that the tops of the socks slouch a little through the day, I may be sensitive to this since I have work clan high socks for a few years. This will not keep me from ordering more!
Very thick, warm socks
These are very thick socks! I purchased these for my husband to use for boots when hunting and also for cold nights when he complains about being cold. He loved them.I even tried them out for a night when it was chilly. Of course they were too big for my feet (woman's size 7.5), but they did keep my feet warm and worked great on my cold tile floor keeping my feet cozy.Keep in mind these are very thick so you need to wear shoes that would allow for the extra bulk. Also, wash in cold water and allow to air dry. If you put these in the dryer they will shrink. They do dry very fast though. This was a great purchase and bargain for 3 pairs of socks of such great quality. I would definitely recommend these for wearing with boots, lounging around or sleeping on cold nights.
Better than my REI socks...
I wanted to wear them for a while before writing a review because I'm picky about hiking socks. These are the best! I have a bunch of fancy name brand socks that are usually between $15-$20 a pair and these are better. They keep my feet warm in cool climates and prevent my feet from overheating in warm climates. Cannot recommend enough will be repurchasing!
Sock Snob Approves 😁🧦
My hubby is a big merino wool snob, he is very impressed with these socks and when he saw that he got 4 pairs for what I usually pay for one pair of socks he was even happier. Will be ordering more as soon as I'm done with this review 😃
I like them enough to make another purchase
I initially bought these because they were a lot cheaper than the wool socks I've been buying. I am a hiker. I like them enough to make another purchase. They held up well hiking in deep snow for miles. The expensive socks also do well. No cotton!!! But unlike the expensive ones, I enjoy lounging in these. They're soft and thick. Sitting on couch in these, comfy as soft slippers.I don't put them in dryer!!! I was them with everything else, but don't put them in dryer. Being water repellent, they're almost dry as is and hung will be good hung for a few hours, right out of washer.
Great socks!
Update: So I wore these over 4.5 days while deer hunting in western washington. Wet and mild weather (low 50s). Hiked a total of 39 miles in hills over the 4.5 days. They are really comfortable. Even when my feet did get wet (waterproof boots but water gets in anyway), my feet felt mostly dry and always comfortable. The sizes vary from medium to larger, but the medium size fit me great. I wear a size 10. The larger ones also fit me fine, but I gave those to my brother who wears an 11, and is on his feet walking security all day. He loves them too!!!
What Are You Waiting For?
Questions?
Why are you running this promotion?
How can I use my coupon on Amazon?
Does this include free shipping?
What Are You Waiting For?